Introduction
NS2520 and NS2530 are long reach SD and HD video transmitters supporting Advanced Video Transport (AVT) technology with visually lossless digital video compression. They also support uncompressed video transmission and are compatible with SMPTE SD-SDI, HD-SDI, 3G-SDI and HDcctv 1.0 standards. NS2520 supports up to HD 720p60, HD 1080i60 or HD 1080p30. NS2530 also supports HD 1080p50/60..
NS2520 and NS2530 employ Norelsys' advanced video compression and serial data adaptation technologies. It can extend the reach of HD video over 500 meters on 75-3 coaxial cable.
Norelsys' advanced digital video compression technologies achieve better video quality at less than half of the data rate required by SMPTE VC-2 LD. The chips also include Norelsys' serial data adaptation engine which automatically adjusts data equalization, transfer rate and compression ratio based on cable quality and cable length. A programmable Reed-Solomon FEC block is implemented for increased reliability.
NS2520 and NS2530 implement advanced features such as Camera to DVR audio and DVR to Camera control channel over the same cable.
Block Diagram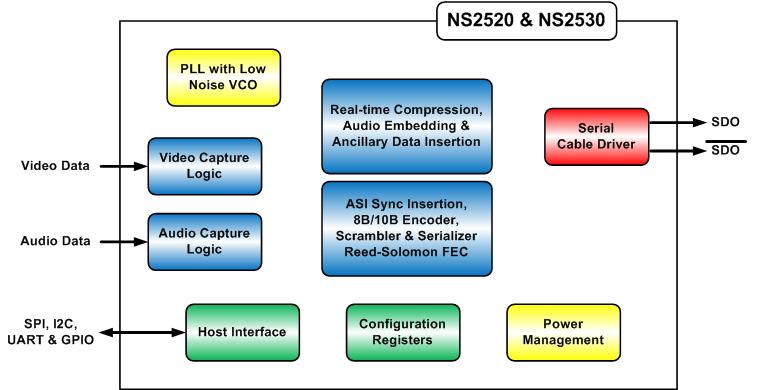 Applications
• HD camera with Advanced Video Transport (AVT) technology
• SD-SDI, HD-SDI and HDcctv 1.0 camera