Introduction
NS5531 is a SD and HD video receiver supporting Advanced Video Transport (AVT) technology with visually lossless digital video compression. It also supports uncompressed videotransmission and is compatible with SMPTE SD-SDI, HD-SDI. NS5531 supports most VESA and HDTV video formats up to HD 1080p50/60.
NS5531 employs Norelsys' advanced video compression technologies and can extend the reach of HD video over UTP or coaxial cable at a serial data rate configurable from 135Mbps to1.485Gbps.NS5531 employs Norelsys' serial data adaptation engine which automatically adjusts data equalization based on cable quality and cable length. A programmable Reed-Solomon decoder block is implemented for increased reliability.
NS5531 provides channels for forward and backward audio transmission. NS5531 also provides data channels for the transmission of I2C, UART, IR and PS2 signals on both forward and backward directions.
Block Diagram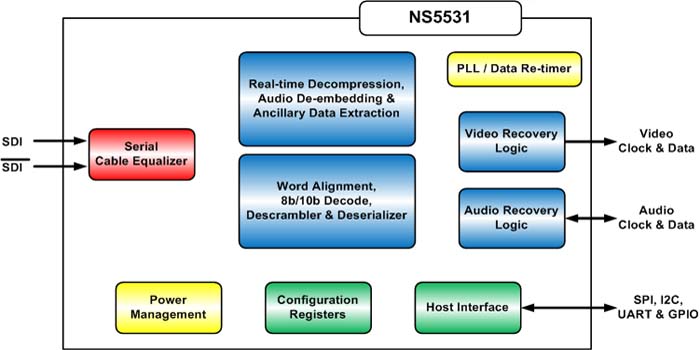 Applications
• HDMI and DisplayPort video extension
• KVM video and control transmission
• Zero-client video transmitter